The team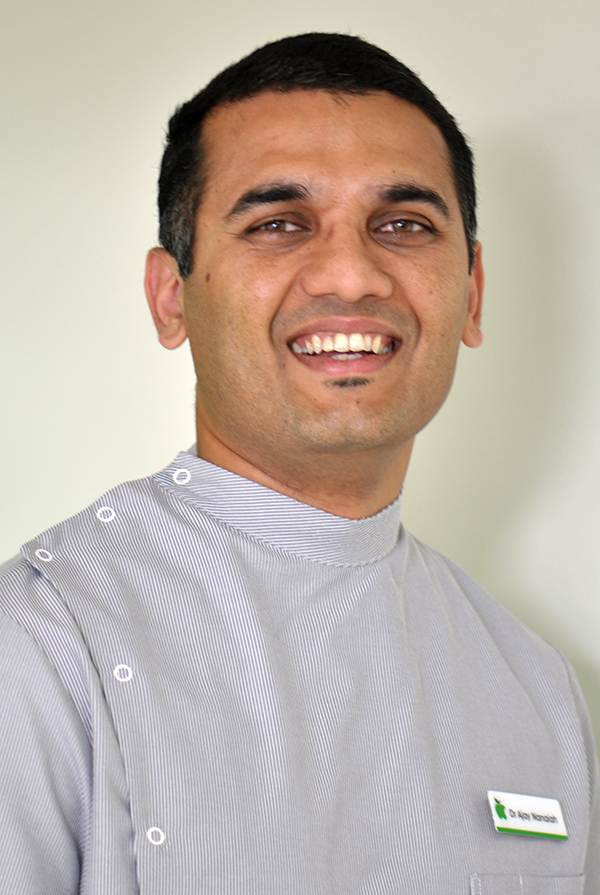 Dr. Ajay Nanaiah
Dental Implantology. Smile Designing
Dr Ajay Nanaiah graduated in 2003 and has worked in both public and private dental practices since then. His range of experience enables him to understand patient needs and offer personalised solutions. He has worked and lived in Sydney, Rockhampton and Albury before taking over Green Apple Dentistry from Dr Caroline Dalleh in 2019.
Ajay enjoys the various challenges in dentistry ranging from anxiety management to aesthetic demands. He has a special interest in implant dentistry, smile designing and reconstruction of worn out teeth.
When he is not working Ajay enjoys clay target shooting and travelling.
Dr. Glen Baker
Dental Implant Surgeon
Dr. Glen Baker was born and schooled in Wagga Wagga and graduated with honours from Sydney University in 1994. He has a keen interest in implant dentistry and has been placing and restoring dental implants for over 10 years.
In September 2010 he graduated from an intensive Masters Certificate program on implants run by UCLA (University of California, Los Angeles). On graduation he was awarded 2 world class certificates and was placed 2nd out of 70 students.
In his spare time Glen likes to spend time with his family and friends and is also a keen fisherman.
Dr. Alayne White
Dentist
Dr. Alayne White grew up on the land in Central West NSW and graduated from Dentistry at Charles Sturt University in Orange. Prior to moving to Wagga in 2018, Alayne worked at the Orange Base Dental Hospital.
Alayne makes her patient's priorities her focus and endeavours to treat others as if they were family. For her it's vital to provide patients with the most up to date options available, even on a routine visit. Her gentle and jovial nature puts the anxious at ease and she welcomes patients with specialised needs
She loves all aspects of dentistry and her special interest areas include geriatric dentistry, oral surgery and root canal therapy. Alayne's bubbly energy is directed to improving patients' smiles and growing confidence in their own skin.
When Alayne isn't at work, she loves to be outdoors – whether it be on the farm, hiking, snowboarding, riding her motorbike or kicking the footy around.
She has previously volunteered her dental skills in the Philippines & Vietnam and hopes to continue to travel around Australia and abroad to provide dental relief to vulnerable people.
Dr. Nazli Yashin
Dentist
Dr Nazli Yashin grew up in Sydney's Inner West and moved regionally to study Dentistry at Charles Sturt University in Orange. Prior to her dental degree, she completed her degree in Science (Honours) and a Master of Public Health at the University of Sydney.

Naz understands that each individual comes with their own unique values and preferences. She enjoys spending the time to get to know her patients by listening to and involving them in their own care. She strives to provide comprehensive information about various treatment options and ensures that all treatment decisions are guided by patient needs, preferences and values.

While Naz loves all aspects of dentistry, her special interests include root canal treatment, oral surgery (in particular tooth extractions) and health promotion. She has previously volunteered in a remote town in Nepal to provide emergency dental treatment as well as advice and support to prevent future dental disease and improve their overall health.

Outside of dentistry, she enjoys hiking, scuba diving, and cake decorating/baking for anyone and everyone.

With a big smile and gentle hands, Naz looks forward to meeting more of the community!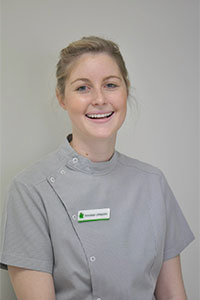 Annabel Palmer
Oral Health Therapist (Dental Hygienist and Dental Therapist)
Annabel Palmer is a passionate and caring Oral Health Therapist who graduated from Charles Sturt University in Wagga Wagga in 2011. Since graduating Annabel has practiced in Melbourne, Wagga Wagga and Orange as well as venturing to Edinburgh, Scotland. We welcome her breadth of experience back again at Green Apple Dentistry.
Committed to helping her patients achieve lifelong oral health, Annabel places a strong emphasis on oral health education and the importance it plays in everyday life. Annabel loves observing how both good oral health and cosmetic treatment can have a positive impact on her patients' lives and also loves working with young children to help build their dental confidence.
Annabel takes pride in her professional development by regularly updating her knowledge & skills. Annabel's leisure time is often spent with family and friends, travelling and playing netball.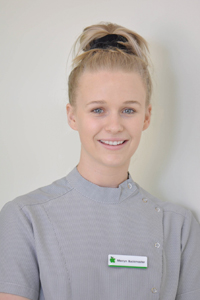 Merryn Buckmaster
Oral Health Therapist (Dental Hygienist and Dental Therapist)
Merryn joined the professional team at Green Apple Dentistry as an Oral Health Therapist after completing her studies at CSU where she was awarded the ADOHTA prize for outstanding performance. She has volunteered her dental skills with time spent in Cambodia.
Merryn brings many years of experience with children through her time as a swimming instructor and is passionate about creating positive experiences in the dental setting for all her patients. She has a warm and nurturing demeanour which assists in making a dental visit much less daunting, particularly for younger children. Her focus is on preventative dental care and the promotion of optimum dental health for all ages.
Meryn grew up in Albury and is keen to provide oral health care in regional areas. Her interests include playing water polo and netball and spending time with her family, friends and her dogs Archie & Lulu.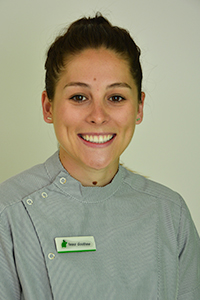 Tessa Hamblin
Oral Health Therapist (Dental Hygienist and Dental Therapist)
Tessa Hamblin completed a Bachelor of Oral Health at Charles Sturt University Wagga Wagga, specialising in children's dentistry and periodontal hygiene.
Tessa was born and raised in Narrandera and worked at Green Apple Dentistry as a dental assistant prior to and during her university studies. Tessa commenced treating patients at Green Apple Dentistry on completion of her studies and has built many long standing relationships and an easy rapport with many of our patients over her many years here.
Tessa has also volunteered her time to provide dental treatment for disadvantaged communities in Cambodia.
Tessa has a strong focus on the oral cavity and its connection with the whole body, increasing the overall health outcomes of her patients. She is committed to working with children and promoting good oral health practices from a young age.